Any designer who cares, knows how to work an all type ad or dock a sans serif font with a script. This post has this goal! Help you create a poster, advertisement, content campaigns for social, web, traditional ads or even a wedding invitation. Handwritten fonts always give a special charm to the context in which they are inserted. We can agree that sources are never too much. It is more than necessary to have a good library of fonts for the most diverse types of layouts that we will create. Be it printed, web or even study materials, they play an important role and can give the sense that might be lacking.
Whether you are a web designer or a logos or advertising designer, you know that panning the internet behind the ideal source takes time. With a vast repertoire available on dozens of websites that offer this kind of service, it is always interesting to look for collections with the best source options that have emerged in recent times, so that you spend less time searching for the ideal source and keep up to date with the latest trends. So, whether you like to use fun and interesting fonts in your work or just day-to-day use, this is the list of handwritten fonts a designer should have.
Lobster

Image Source: www.impallari.com
A charming font, in manuscript style and bold, condensed and with hundreds of ligaments between the characters. One of the darlings of the current design, and deservedly, by the way.
Amirah Display

Image Source: www.creativemarket.com
If simplicity in design is your style, then delight your eyes with Amirah. This font is characterized by its handmade thin letters, created with long lines and rounded top. This font is ideal for invitations and more, so you'll want to add it to your collection.
Little Antelope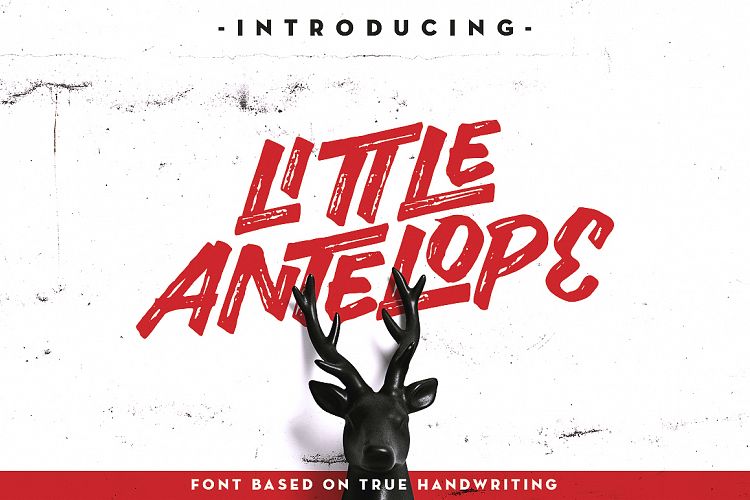 Image Source: www.fontbundles.net
Created with an attractive textured design, this fountain features a wonderful brushed style developed from a real handwriting. The download includes a complete set of letters, numbers and punctuation marks to suit your typographic needs.
Handster Typeface
A handwritten font created with love, Handster Typeface is a casual letter style with jagged edges. It is the perfect letter for that imperfect aspect. This package includes all the essential characters you need to complete your designs.
Kalista
Create stunning designs with Kalista, a unique font. This font was created to give the feeling that it is actually handwritten with winding curves and spontaneous lines. It is ideal for stationery and much more! Download the file to access the regular version and the alternative versions.
Pumpkin Script Typeface
A hand-written font with thin strokes with imperfect detail, Pumpkin Typeface is the perfect complement to your designs. This package includes uppercase letters, numbers, and two alternate font styles.
Lote Santos
Today, slate-style aesthetics are at their peak in the graphic design industry; And you can incorporate that sense of authentic writing by hand with the incredible Santos Lot. This font has a complete set of letters, numbers and punctuation marks to cover everything your design requires.
Beaverist Font

Image Source: www.creativemarket.com
A very handy source created by hand, Beaverist emanates a casual vibe that looks great without being too casual. Add to your designs that special touch made by hand and download the package to get this letter in two different thicknesses, essential for any creative project.
Grocery Rounded Font
You will feel at the local supermarket with this type of letter inspired by a grocery store. This fountain features an eclectic design inspired by those old school handwritten posters that are often seen in grocery stores. Take advantage of this complete package today with letters, punctuation marks and even an additional set of 14 plant glyphs.
Doriana Handwriting Regular Font
Inspired by the handwriting of the creator himself, this font has delicate handwritten letters in an elegant yet casual style. This package includes all the uppercase and lowercase letters you need, as well as a complete set of numbers and punctuation marks.
Wonderfont Brush Typeface
Create wonderful designs with this original brushstroke font. Its rugged, hand-drawn look makes it perfect for vintage-inspired designs. The download allows access to uppercase letters, numbers and more.
Watch
Inspired by the famous graffiti writing style, this fountain has an air of street art with its broad and daring lyrics, ideal for headlines and more. This package includes all the characters you need to achieve gorgeous avant-garde designs.
Magic snow
This is a perfect Christmas fountain for that festive season of the year, but you can also incorporate Magic Snow into other winter designs. The thick handwritten letters include unique elements, such as snowflakes, that instantly give your work an adorable charm. Download this amazing font today!
Montclar Handwritten Font
This fountain is an example of style and sophistication thanks to its elongated and elegant letters that make it perfect for restaurant menus. This package includes Latin and Cyrillic characters with everything you need to create exceptional designs.
Brook Handwritten Font

Image Source: www.envato.com
Create stunning book covers and more with this simple looking handwritten font. Designed with elongated capital letters, this font comes in four different thicknesses with which you can experiment to complete your designs.
Celestial Font

Image Source: www.thehungryjpeg.com
Design simply unbelievable posters with Celestial, a unique font written with thick brush strokes and an uneven base line. This fountain is ideal for Christmas cards, posters and much more!
Jacks Font

Image Source: www.creativemarket.com
An incredible duo that offers script and sans versions of the font and includes all the characters you need to create interesting designs. Suitable for blogs, dates and more! The possibilities are endless with this magnificent font.
Akula Font

Image Source: www.creativemarket.com
Explore this incredible dry brush stroke style with Akula, a fountain created using hand drawn lettering with a brush. This package includes a complete set of letters, numbers and punctuation marks for your utmost comfort.
Nomad Font

Image Source: www.creativemarket.com
When a font has been carefully painted by hand, you know that it has been created with love. Nomad is characterized by irregularly painted letters with a sinuous baseline that will surely highlight the best features of your work.
As we all know, it is hard work to find free really good fonts that have this freshness of design that the design always asks for. Sometimes, when we do find some of these fonts do not have all the characters. Or, they do not have variations like their versions in italic, bold, superscript, etc.
Finally, there are many details and criteria that lead us to define whether a source is good or not, but for today's the above mentioned some fonts can help you in your works without major concerns that are not aesthetic, to be used in titles, adornments, parts of a logo, anyway. Use these suggestions according to your desires and requirements.