Logos have been and continue to be a critical element for any type of business and company. With logos you can differentiate your brand from others, create a visual image that your customers will get stuck with, and improve your overall brand awareness and image.
Logo trends are constantly changing. Therefore, designers should definitely pay attention to the shifting marketplace and adapt to the present conditions. In case you're a logo designer, you must be up to date with the newest logo design trends. It is the only way to provide value to your present and future clients.
If you're just looking for some logo design trends for your company, you are in the right place. During this article we'll take a look at eight of the hottest logo trends that are happening right now, in 2016.
Remember; the marketplace is constantly changing. You have a basic choice: stay in the comfort zone and stick with what you're used to or adapt to the marketplace and discover new opportunities. I'd suggest choosing the second option, as you'll develop new helpful skills and mindsets.
Simple & Flat

ImageSource: www.Colorlib.com
This is one of the oldest existent logo styles; yet, during the last several years, the trend has definitely lost popularity. 2016 seems a little different compared to 2015. Big brands are starting to use the flat style, which is more productive due to several reasons.
They can use the simplicity of the design in order to create compatibility with lots of smart devices. Mobile phones, tablets, and even virtual reality helmets nowadays have different appearance settings. Some will not be as responsive to your logo design, and therefore you will lose some reputation along the process.
UI-Friendly Fonts

Image Source:www.fonts2u.com
Again, the mobile industry is kicking in and begins to influence the way logos are made. The font is a very important part of a professional logo. In order for your logo to be good looking on any type of device, you have to pay attention to the scaling process of the logo's font.
There are certain fonts that don't scale well, and therefore the user will see damaged letters. You will lose a lot of credibility, as your font will look unprofessional. Nowadays, being a big brand or even a small one requires a certain degree of responsibility. There's a lot of damage that could be done to the company's image, and you'd better avoid that.
Minimalism
Image Source: Webdesignmash
Minimalism is an awesome logo designing strategy which has been growing in popularity since 2014. During the last two years, lots of brands have started to implement this strategy and create awesome results.
In a few words, this logo trend emphasizes the flat designs which contain as few colors as possible. The main purpose of this style is to attract the attention of the viewer towards the selected colors. It's an attention-grabbing strategy, and it often works wonders. Just look at the above image and notice how blue is the color that shows up first.
Stacked Texts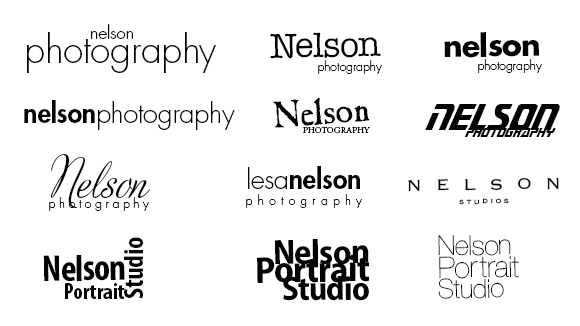 Image Source: www.Staticworld.com
Here's another new trend that started to grow during the last several years. Stacked text logos are basically words that are placed vertically. This image creates a better and more attractive trigger for the human eyes. It also tends to represent the company better as it can separate few different, but important concepts.
It is usually combined with horizontal text, because it can allow you to create a lot of awesome combinations. You can also use the stacked text and add a small visual design around it.
Hand-Drawn

Image Source:www.mydesigndeals.com
This is probably one of the fewest trends that have remained constant during the evolution of logo designs industry. There's nothing nicer than a fine hand-drawn art. It gives the right feel when you look at it, and it will make you feel a little closer to the brand. It also inspires trust and reputation.
Hand-drawn logos are emphasizes connected and semi-connected fonts which are combined with cartoon(ish) graphics to transmit more like a personal feeling. This is a lighter approach when it comes to branding, and it can work wonders.
Duo Coloring

Source: www.Quorasdn.com
Let's not forget about the duo coloring trend. It has gained a lot of popularity, and many businesses use it in order to create a unique look. By using this logo designing style, you are making sure that your logo isn't overcrowded. It helps at keeping everything simple and definitely memorable. The right combination can really be an efficient trigger.
This trend has also gained popularity due to the fact that during the last several years, marketers have complicated things. They started adding a lot of fancy stuff, which eventually has lead to a collapse of that trend. Nowadays, simple is better.
Vintage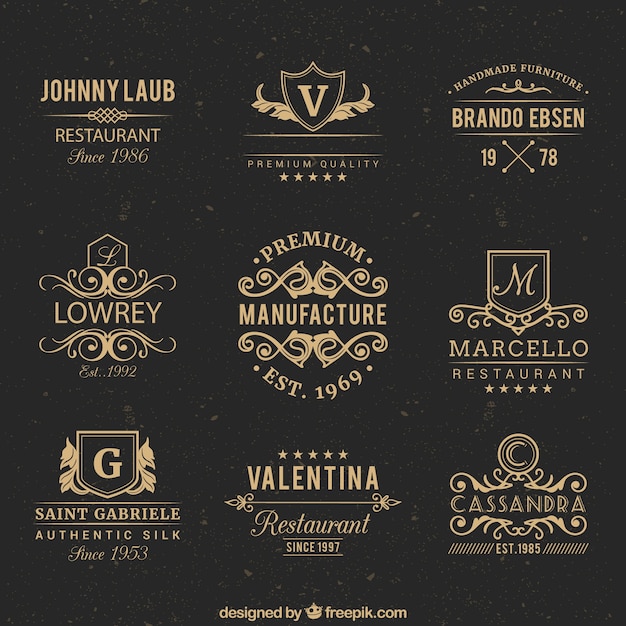 Source: www.Freepic.com
This style has slowly showed up early in 2015, and definitely continues to make a strong impact over the logo design trends. It brings past elements and symbols that create a strong connection with the new aspects of our society. It could be considered a traditional style combined with fresh elements.
The best part about these types of designs is the fact that they make a strong impact at first sight. They manage to capture the viewer's attention really quick, and therefore they are effective.
Wordmarks

Image Source:www.logodive.com
A wordmark is basically a visual representation of your company and brand name, created by words. This is old since the beginning of the first ever websites, but it still does the job. Many giants such as eBay, McDonalds, Disney, and even Coca-Cola are still using it. Why? Because it works!
Logo designing trends are coming and disappearing. Inspecting what's working today and choosing your logo according to the most popular trends is the best way to start your company with the right foot. A good logo can change a lot of things on the long run.
Therefore, focusing on your logo is one of the first things you should do when creating or managing a company, and also when you sell them towards other companies or individuals.