How To Make Lead Generation More Actionable: Customer Acquisition Tips
As a marketer, you spend countless hours trying to optimise your customer acquisition strategies. It can feel like an imprecise science at best sometimes. However, there are some tips that can guarantee more customers making their way to you. Here are some of the best tips to help you out.
Optimising your site for lead generation
Image Source:www.blog.jdrgroup.co.uk
– Post forms on every page:
Give your customer easy access to the forms required to start the checkout process with you. If you keep it 'above the fold', they can see it instantly and start using it. Big Assignments are a good example of how to do this on your site. Also, keep them as simple as possible. If you ask for a minimum of information on the first page, they are more likely to fill it in as you aren't asking for data like their personal information right away.
– Never mention spam:
It's ok to reassure the customer that you'll never send them unnecessary mailings, but the word 'spam', according to test results provided by Michael Aagaard, has negative connotations. It's been seen that using the word 'spam', as in 'We'll never send you spam', can make conversion numbers drop.
– Have a single Call to Action:
Too many choices can lead to confusion or indecision in your customers. According to Aaron Bolshaw's test, the way to make it easier for them is to just reduce all the options into one single Call to Action. It removes the choice and gives the customer just one action to do.
– Add testimonials for greater credibility:
Encourage your customers to leave reviews of your products and services. Customers trust the experience of others, according to the Nielsen report. So having those testimonials will go a long way towards convincing them to buy. Assignment writing service is a good example of how to do this on your site. If you're just starting out, or have a new product to sell, writing services can help you put reviews together for the landing page.
– Do the squint test:
According to this study, simple changes on your website conduce to 591% increase in leads. So sit back from the screen, take a look at your web page and make a squint test. Does the Call to Action stand out? If not, you'll need to do some redesigning. The Call to Action needs to be one of, if not the most, obvious points of your page. If you can still see it, then you're good to go.
Content for lead generation
Image Source:www.madpipe.com
– Blog consistently:
Yes, you already knew this one, but do you actually do it? Companies who keep a consistent blog schedule find that their customer generation continually grows. That's because they're always bringing them in with consistent, relevant content that has something to say to them.
– Create evergreen content:
Take this case study for instance, about making content that's reacting the current events and trends is great to get your website a short-term traffic boost. However, you need to pair this content with more evergreen posts. Invest in creating the longer form, relevant posts that will always be useful to customers. This will keep the readers coming in when you're not reacting to what's hot online.
– Brush up on content marketing skills:
You're already here, so you're looking for ways to improve your conversion rates. If you're looking for more information, try using a good content marketing guide such as the one over at Academized. They can give even the most experienced marketer some new ideas to get started with.
– Use more video content:
According to Video Marketing Statistics 2016 by Wyzowl, videos are fast becoming the most popular way to share information online. You can do a lot with them. Demonstrate your product or service, talk about the benefits, tell the story behind your company or offering. It really is up to you how you use it. If you want some help creating videos, there's plenty of services such as Wistia who can help you out.
– Promote your Tweets:
Promoted Tweets are sponsored content that shows up in the regular feed of Twitter users. These are great for bringing in leads as they look just like regular Tweets, and have been shown to bring in more business for those who use them. When writing these Tweets, keep them light-hearted and entertaining, as to fit in with the rest of a typical person's feed.
Social media for lead generation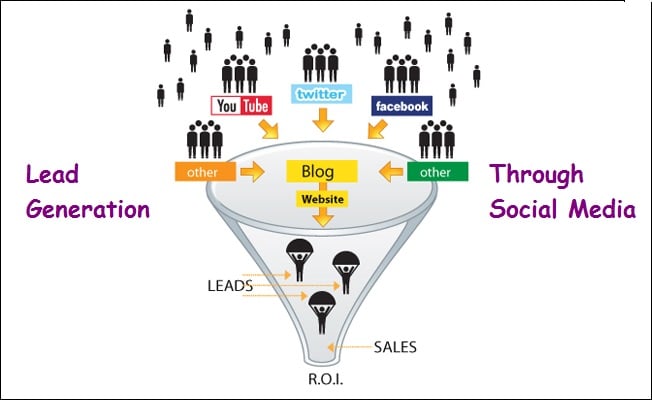 Image Source:www.krify.co
– Keep your posts short and sweet:
Social media users are forever scrolling through their feeds, and anything that interrupts the flow is likely to be ignored. Writing service Australian Help says 'Keep your social media posts short and to the point. Posts which require the reader to click through to finish reading are often ignored.' If you need help keeping your posts short, try using Easy Word Count to keep an eye on how much you're writing.
– Post interesting quotes:
In your search for content to share with your readers, you're going to find lots of useful and interesting quotes. Pick the ones that are the most interesting and relevant and post them to your account. If you do this, be sure you're crediting the creator properly. Use Cite It In to create a proper citation to go on your post.
– Practice social listening:
On Twitter, you can do a search for your company or product and get real-time results on who's talking about you. It's a powerful tool and one that you should be utilising. Use it to interact directly with your customers, answer questions and solve issues that arise. Customers respect a company that will pay attention to their needs on social media.
– Share news with followers:
Make your social media  the place where you announce news and special offers first. If you're consistent with what you offer on there, you'll gain more followers as they know that you can be relied upon. With your content showing up in their feeds more often, they're much more likely to buy from you, too.
Final Thoughts
There are lots of tips here that can help you get the most out of your marketing content, and being in those fresh leads. If you pay attention to how content is created and how you're delivering it to customers and readers, you can go far. Try these tips out and see for yourself.