There is never a dull moment in the design community, each year brings with it a new set of  user interface trends. Some of these trends just disappear in a puff of smoke while others dominate the design scene for a longer time and change the face of  the website design for years to come.
As we know the world of UI design is always evolving and moving, making it challenging for the designers to keep up with all the ever changing trends and latest developments. Fear not, in this post I will be sharing 6 emerging user interface design trends that will shine in the year 2018:
Video takes the center stage
Image Source:www.smashinghub.com
As per the traditional popular saying, 'a picture speaks a thousand words' and in the world of UI design it still remains a powerful medium to capture the attention of users.
Owing to their strong visual appeal, it won't be much to regard imagery as a staple of web design and UI and now images have slowly paved the way for its next successor 'Video'. The benefit with videos is, they are dynamic and more engaging as compared to conventional imagery that is static. Moreover, video is a great means of visual storytelling and summarizes both message and tone of voice in an efficient way. Though imagery is not going to vanish anytime soon you will notice a great number of immersive and full-screen videos taking the center stage. So, Video is taking over the design scene with a storm and is going to become an even greater trend in 2018.
Spotify(a music streaming app) makes a brilliant example of using video as a background in the web design. The site displays a series of clips that combines perfectly with the accompanying music and creates an emotional atmosphere around the brand. In addition, the background video used here, gives users an incredible moving experience. I am sure you can draw some inspiration from the site.
Long Form Content is here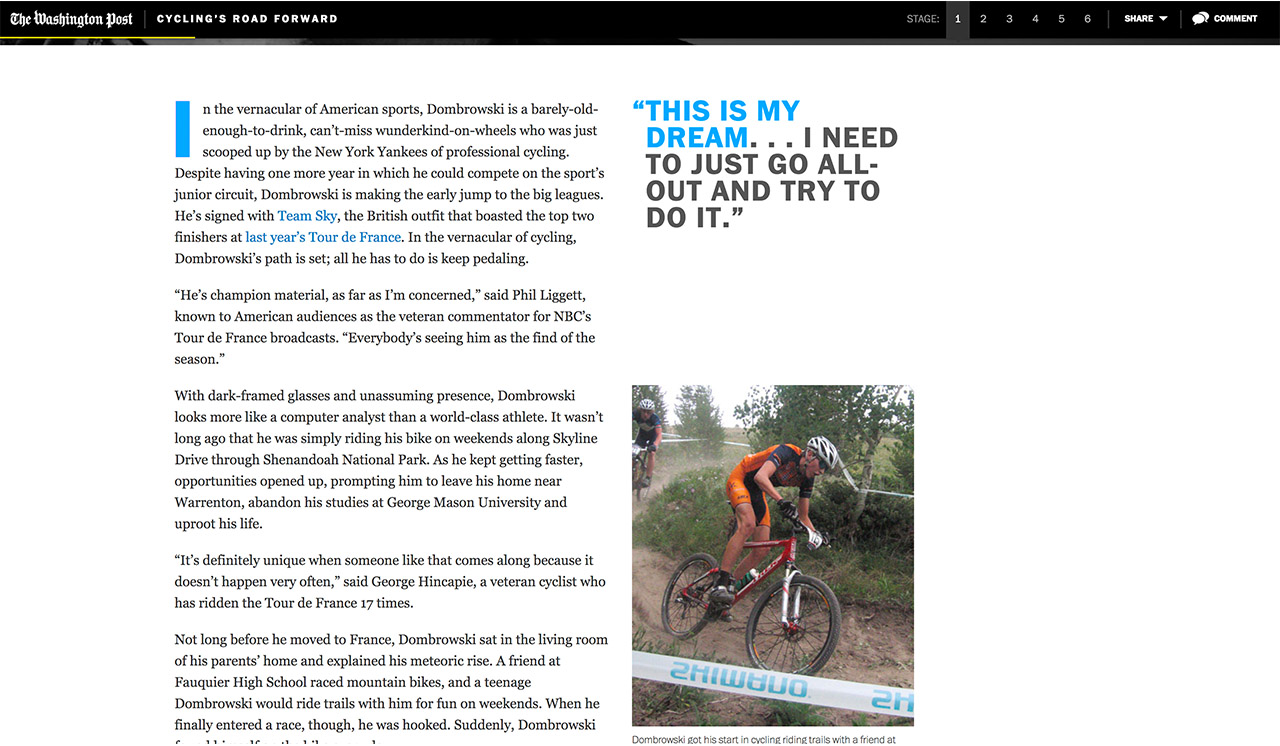 Image Source:www.slickplan.com
With the increasing demand for more written content, long form content and long-scrolls are enjoying the dominance in UI design world. Although web pages or content that extends 'below the fold' poses implementation challenges for UI design  it is gaining immense popularity for a good reason.
The main reason is it gives users enough flexibility to quickly scan through even large volumes of content without breaking the flow. Besides, through long form content, users get  quick access to information in a single, fluid motion without being redirected to a new web page or any kind of interruption. Moreover, it is a versatile functionality that works great for search engine optimization and also works well across other devices too.
As more users become friendly with the long form content, then there is an increased number of  scrollable interfaces. So, we are expected to see more of this trend in the year 2018.
Bold & Beautiful Typography
Image Source:www.fontsinuse.com
The importance of typography in a UI design cannot be underestimated. It's importance can be gauged from this famous quote by Oliver Reichenstein ,   "Web Design is 95% typography". Thus, a beautiful typography optimizes your UI design and captures user attention.
The purpose of typography is to draw the users to content and present information in a way that it increases readability and accessibility while ensuring graphic balance. Designers are now pushing the limits and embracing more bold and beautiful typograhy that adds to the UI appeal and ultimately attracts more customers. Well, i think it is time to say bye-bye to boring and dull typography and welcome bold and beautiful typography in the UI design.
Fortunately, there are so many sites that are already using beautiful typography in the UI and can surely give you enough inspiration.
Medium (a platform to read, write and share stories) is an excellent example of using typography not as a mere text rather as part of UI.
Say 'Hello' to Vibrant Colors
Image Source:www.designhill.com
The next trend that is going to dominate in the year 2018 is the use of more vivid color palettes in the UI. Though, the previous years witnessed popularity of flat design making rounds , get ready to see more bright and vivid colors to take over the design community. Flat design was all about minimalist approach, muted colors and encouraged doing away with the distractions. Although Flat design still holds relevance today iy slowly seems to be disappearing.
You can expect brands to get more creative with colors, experimenting more with bright color palettes to gain maximum user attention. Undoubtedly, use of bright and bolder colors in the UI design, actively attracts attention of users while adding  to the overall vibrancy and appeal of the design. 2018 will surely witness a shift from the flat colors to bright & brilliant colors.
Cards are here to stay
Image Source:www.pinterest.com
I suppose we all are already familiar with cards, this is not a new trend but in 2018 we will see cards gaining prominence in the design scene. Cards are a visually appealing and organized way to present large amounst of information in a small space. It allows users to access information in a glance and make their choice quickly whether they want to view it or not. Many popular social networking platforms including Pinterest, Facebook, Twitter, and Netflix are effectively utilizing cards for this purpose.
When it comes to web browsing, mobile devices have successfully taken over desktops as the most popular platform. Because of this, the lines between mobile and desktop UI are getting thinner. As a result cards are enjoying a great share of popularity as they work well on everything from smaller-screen -hand held devices to desktops. Thus, cards as a functional UI option are going to dominate the design community in the year 2018.
 Pinterest is a trend setter when it comes to card style layout, an overwhelming no. of sites have got inspired and have emulated its visually appealing, easily digestible, card style layout.
Sound Design
Lastly, sound design is another novel entry in the list of design trends. To be precise, sound design here refers to a soft and small sound that we hear on the click of a comment or while selecting a smiley. Be it about choosing a grumpy smile on an awful day or a grin smile to express laughter and cheerfulness, sound design makes the whole experience more joyful and delightful. Although this trend is relatively new on the list ,in the coming year we are expecting to see more usage of this feature to take the experience of users to a fresh level.
Final Thoughts
Trends come and go but there are some that stick around and become fundamentals. Being a designer, it is down to your own judgment to decide which design trends you want to embrace and to which you want to give a pass. And if you are looking for some design inspiration then this post has more than enough information to keep you hooked. Happy Designing!