How Influencer Marketing in 2018 Is Going to Change Your Business Strategy
Influencer marketing is getting bigger and bigger with each new social media platform and update. Perhaps one of the most interesting developments with the advancement of social networks, influencer marketing is allowing individuals to voice their opinions and drive sales like never before. This completely changes traditional marketing models, but there are a few key caveats.
One of them is trust, and the other is a large devoted audience. If the influencer loses trust, they won't be able to sell products as effectively in the future. That's why influencers typically only support and recommend products that they personally like themselves. On a few occasions, influencers will peddle other people's goods – as long as it isn't a terrible product.
Industries Are Becoming More and More Crowded with Influencers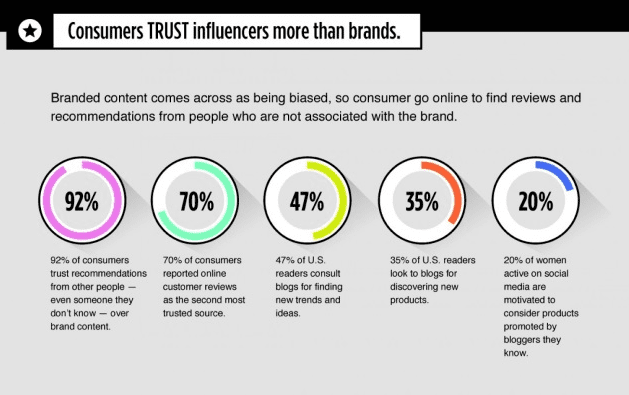 Image Source:www.smartinsights.com
It's becoming harder and harder to rise to the top. Years ago when influencer marketing was still a burgeoning concept, there wasn't nearly as much competition as there is today. The first influencers to arrive were able to pick the "low hanging fruit." But today, everyone wants to capitalize on influencer marketing.
This is bad if you want to become an influencer marketer, but not necessarily so bad if you want to work with one. There are so many now that a business will have more options at their disposal when considering which influencer to contact, trade guest posts, or strike a deal to get the influencer to promote their products. You'll need to do your homework though and discover the size of the influencer's audience.
For every massive influencer that makes it, there are nine who don't. After all, does the Internet really need another apparel or cosmetics vlogger? Heck no…the Internet is already cluttered with them. So if you want to become an influencer in your niche, be prepared for an uphill battle. And if your business is reaching out an influencer, make sure you first know how big the influencer's tribe is before proceeding.
Influencers Will Gain Increasing Popularity and Revered Celebrity Status
Once an influencer has a large following of proselytes and devoted followers, they begin to gain rapid popularity. I'm sure everyone has heard that word of mouth is the most powerful form of advertising. When a friend, family member, or colleague (someone you trust in your personal life) recommends a product, service, or YouTube channel, you're a lot less skeptical and at least willing to give it a shot.
Plus, if the influencer was able to make a positive change in your life, you're going to be that much more encouraged to tell other people about it. For these reasons, influencers can capture ridiculously large audiences. Often the audience puts the influencer on a figurative pedestal, and the influencer can grow so popular that they achieve a celebrity status in their niche or industry.
As we move into 2018, this trend doesn't show any signs of slowing down. People have often quipped that even if you have a massive social media following, it isn't worth anything in the real world. Well, that's only true for people who don't know how to capitalize on their success. Key influencers will continue to be revered on the same level as celebrities in the coming year.
Influencers Will Take Greater Advantage of Live Streaming Video
Image Source:www.hireinfluence.com
In 2016 and 2017, live video was the hottest new development that social media giants started adding to their services. YouTube, a favorite platform for most influencers, has also added live video feeds to its services. In the past, services like YouTube could only host videos that had taken place sometime in the past. That is, these platforms couldn't deliver any coverage of live events.
Some things in life are almost always more fun when they're living, too. Sporting events, holidays (i.e. New Year's Eve coverage), breaking news and other similar events simply offer greater value when they're live. Influencers have caught on to this fact, and many influencers have already hopped on the live streaming video bandwagon. As 2017 winds down and we transition into 2018, expect more influencers to take advantage of live video and find a way to incorporate it into your marketing strategy.
Budgets with Increasing Allocations for Influencer Marketing
It's clear to most businesses now that influencer marketing is a great way to reach a massive audience. Often an influencer's audience is already highly refined, allowing a business to laser-target individual segments as needed. The cat is out of the bag, and influencer marketing isn't a secret or iffy emerging trend.
For that reason, expect a lot of your competition to allocate resources in the budget specifically for influencer marketing. Not only are more businesses engaging in this type of marketing, the ones that are already participating are planning on increasing their budget because it was so successful. In fact, almost 60% of businesses are planning on increasing their advertising budget on influencer marketing.
Blog-Only Influencers Will Go the Way of the Dinosaurs
Image Source:www.slideshare.net
It's 2017, and the overwhelming majority of influencers don't use a blog exclusively to reach their audience. The days when you could get a massive following purely by writing up reviews has bit the dust. There's so much competition from other influencers that are engaging in live streaming, video content creation, podcasts, and more.
With all the new advancements in social media technology, text-only blogs and influencers are getting phased out. Sure, there may be an exception or two because the blog might have some useful textual references and related content. But the biggest influencers know how to capitalize on the latest trends.
Final Thoughts
If you failed to take advantage of marketing trends in 2017, don't worry. It's not about the past, but the decisions you make going forward. As they say, it's 20% what happens to you and 80% how you respond. I would highly recommend taking action in the realm of influencer marketing as soon as possible. It has proven to be highly effective, and trends show that it's going to be growing even larger in 2018.