How to Create Functional Filters for Your E-commerce Site
Functional filters on an E-commerce site can help drive more sales, providing visitors with a pleasant, accessible user experience. Filters enhance an experience and can reduce frustration. Customers seeking a specific item are likelier to find it while also having their interests piqued into additional purchases by other relevant filters.
E-commerce product filters can be a great driver of sales. However, when used incorrectly, they can make for an even bigger user experience headache. You should ensure your E-commerce site bases its filters around relevant and actionable types, as seen in these examples:
Landing Page Filters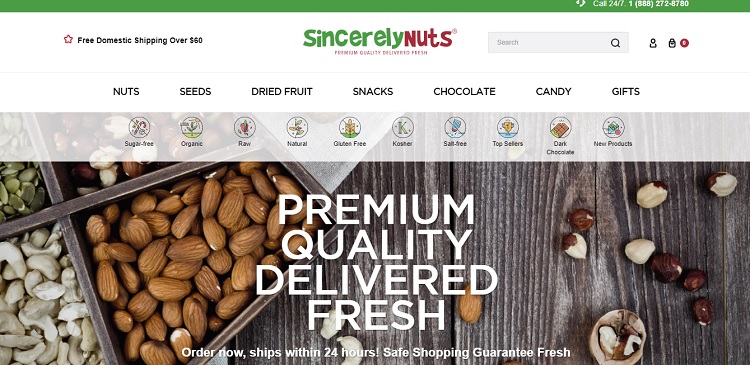 Image Source:www.experts-exchange.com
Sincerely Nuts utilizes filters on the main landing page to fit the needs of their audience immediately, especially if customers are looking for something in particular or have an allergy. For example, their "Dried Fruit" category filters by each type of fruit. They also provide additional filters for "Top Sellers" and "Staff Picks." In addition to providing useful filters, the site wisely incorporates staff suggestions into the filtering process. This makes it easy to navigate while providing the incentive to purchase additional items visitors may not have sought earlier.
Placing functional filters on the landing page provides visitors with immediate cohesion in the user experience. This can lead to a likelier purchase.
Sub-Category Filtering
Some niches should filter their categories even further, such as how Urban Outfitters goes beyond filtering bottoms, shoes, and graphic tees and dives into more specifics. Giving visitors the ability to further filter by neckline, sleeve type, size, color, brand, and price provides them an experience where it's easy to find precisely what they're seeking.
Getting overly specific in certain niches may not always be practical. However, for niches like the fashion industry, where variety is very important, sub-categorical filtering makes sense.
Filter Values of the Same Type
Image Source:www.baymard.com
It's effective to provide various filter values for the same product, especially involving size. For example, Amazon easily enables customers the ability to filter various sizes for a thermos, ranging from under 11 ounces to 35 ounces and more. If someone is interested in a product for its purpose, it's likely they will consider purchasing more in other sizes. Filtering values for the same product is an effective way to enhance the user experience and drive more sales. The filtering can also help to stand out from competition since 32 percent of eCommerce sites don't feature multiple filter values of the same type.
Show Applied Product Filters
Visitors are taking time to apply various filters. So they will appreciate being able to easily view what they have filtered already throughout their shopping experience. As in the navigation on Newegg and other E-commerce sites, the applied product filters should be prominent near the top of the page, as circled. The visibility of applied product filters ensures that visitors do not lose focus on their initial search, a feature that helps to complete the purchase.
Truncate Filter Values Appropriately
Image Source:www.baymard.com
Certain categories can include a dozen or more possible filters. Rather than limit the filters, consider truncating the values appropriately. List the most popular filters first, truncating after five or so filters. For example, if there are 12 filters in total, you can truncate after the first five filters, so it says "7 More…" and enables visitors to see those filters upon clicking. You can use link styling, spatial indicators such as a + symbol or ellipsis or the "7 more…" example to indicate more available filters.
Provide Filters By Solution
Solution filters can help visitors find what they're looking for, even if they don't know the product name. As long as they know what they want out of the product, a solution filter can help customers find what they want. For example, a swimwear store can offer solution filters.
Many visitors to E-commerce sites are seeking a product that aids with a particular solution. So filters by solution help enhance the user experience. This is especially true among uncertain visitors or those who have yet to do considerable research on the topic.
Never Provide Zero Results
Image Source:www.econsultancy.com
An E-commerce site that returns "no results" for any search query or filter addition is wasting an opportunity. If a customer receives such a message, they may leave the site since you can't offer what they need. Replace the "no results" page with a list of similar items, or a list of best selling items, so visitors can browse additional items even if they cannot find what they're initially seeking.
Analyze User Behavior with Filters
Analytics platforms like Google Analytics let you see the best-performing pages on your website. Also providing a view of the best-performing filters. Certain platforms also provide heat maps. These help with viewing precisely where visitors are clicking the most.  It's also a good idea to conduct email surveys among customers. Ask for features of the site they enjoyed and suggestions for improvement.  On-site surveys are also an option, especially when offering potential discounts in exchange for survey opinions.
Enable Multiple Selections
Filtering should let visitors select as many options as they want, which will increase the number of products shown and, consequently, the likelihood of them initiating a purchase. Whether a visitor knows exactly what they want, such as blue sunglasses with specific UV protection made by a specific brand, or a more broad desire, like sunglasses in general, multiple selections help make the search and filtering process more versatile.
Functional Filters For Shopping
Functional filters on E-commerce sites can play the role of extremely powerful aspects in the user experience. They elevate the opportunity for visitors to find precisely what they want and more. Organization, versatility, and insight are all characteristics of quality filtering on an E-commerce site. Investing time and resources in filtering is a great way for E-commerce sites to become more user-friendly and enhance the shopping experience.