5 Dominating Trends Of E-Commerce Market in 2017
E-Commerce was once nonexistent when compared to physical marketing spaces around the globe. In 2017, it commands a large section of products and majorly serve in countries where strong hold of internet for every citizen exist. Like all your favorite shopping malls and stores, major names in e-commerce now bring a huge fraction of sales to these typical brands. The popularity of these platforms helped more and more sellers join them with passing days, resulting in a virtual structure that may not even fit physically in the biggest mall of India.
Practicality made all this possible as it saves a lot of time and money when compared to physical shopping. Reviewing different sellers at once, which was a dream of every shopper, came true with presence of e-commerce on the world wide web. Here are 5 dominating trends of e-commerce market that were seen in 2017.
    1.Sharp Rise in Popularity
Image Source:www.webpronews.com
As people started linking with internet based shopping portals, the speed at which physical stores were closing nearly quadrupled. A trusted report even claimed that around 8000 stores will close in 2017 while the same number was just 2000 last year. This is one clear warning for those who have no online presence as future lies here. Working on both the physical and e-commerce store reduces the closure chance by a good margin but that may not even let the owner set high profits in same period of time. Why would someone spend more on parking and fuel while still getting the product at a higher cost than their favorite e-commerce portal.
    2. Faster Delivery
Most portals that deal in online product sale and service now have a premium service that explains how they can deliver your product on the same day or most probably the next day. The time is long gone when one waited for more than a week to get that product shipped onto their address. Customers willingly pay e-commerce websites more money for these fast services and hence, they actually wish to avoid high amount of traffic on the road and get their favorite product as fast as possible. Those who have moved online but lack these kinds of services may need to work fast in order to stay active on the internet.
    3. New Face of Social Media
Image Source:www.multichannelmerchant.com
A portal that once kept your social profile online a few years back is now one great marketplace for product sellers. Taking Facebook as an example, you can clearly see how cleverly they brought adds within the social network. They track your interests and see how many people other than you are looking on the same page. From that time, you will start seeing ads that are relevant for that specific page. This way, advertisers get a great chance of getting quality customers through social media. Not just that, the users are getting everything of their choice and hence, this process bilaterally helps both sides in getting a perfect location for personal interests.
    4. Consistent Quality Improvements
E-Commerce market saw a lot more improvements in user experience than that recorded last year. All was done to make users more comfortable with this complex structure. Rising convenience attracted more and more users as this market was made simpler for those with lesser experience of present day technology. They worked hard to cut unnecessary steps and forms from their portals, presented lightweight applications and even came forward with real time assistance through their helpline numbers.
    5. Integration of More Efficient Bots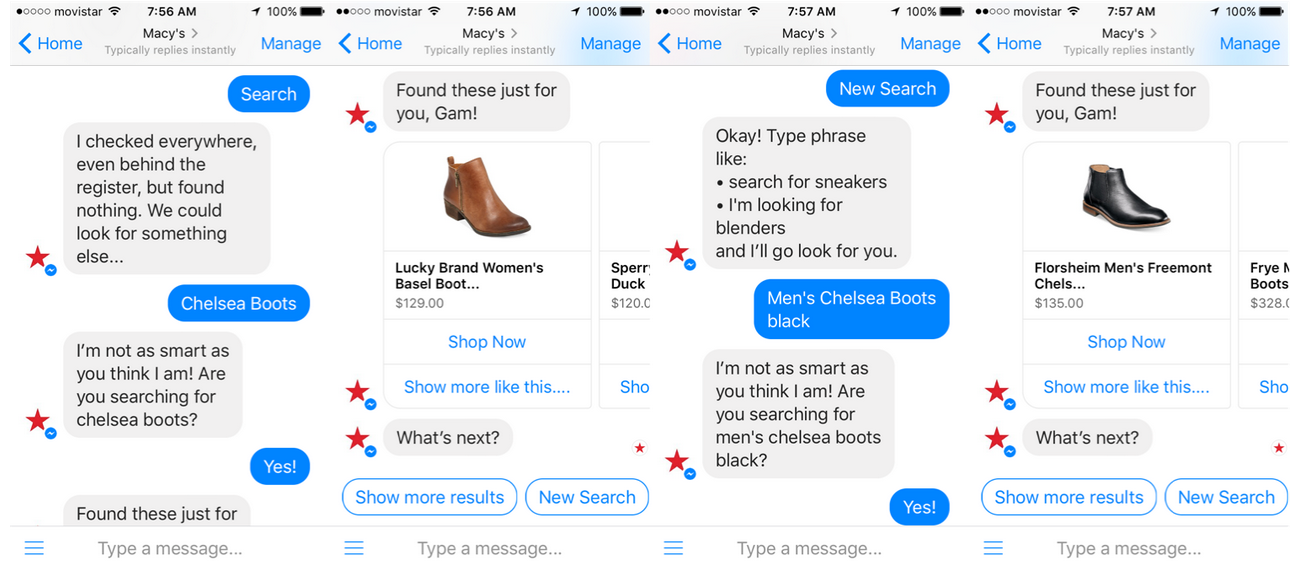 Image Source:www.digitaldoughnut.com
Bots are responsible for most functionalities on an e-commerce portal. In 2017, the use of chat bots will further help this segment of internet grow extensively. They will serve as effective technical support staff, helping users lodge complaints and inquire about different products from their homepage. They are fun to use and have a good engaging capacity. Interactive bots may receive your orders in real time after few updates in the coming years.
E-Commerce market is still full of possibilities. Those who know how to use its power can extract a lot and achieve new heights with their strong online presence.