Rewind of juicy logo designs for Winter Olympic Games
A true sign of a great logo design is unveiled decades after its creation.
After all, this is the only way to know if your logo managed to become a timeless one – meaning that it creates the same emotional response from people brought up in different times, with vastly different branding stimuli hitting them on a daily basis.
Reviewing designs of the last century can be a valuable lesson for every designer on the long-term outcomes of adhering to short-lived trends. It can teach a lot about what makes a logo a timeless one.
Below, we present a rewind of Winter Olympic Games' logotypes. It is worth knowing, that most of these designs were particularly expensive. Judging by today's standards, which of them have passed a test of time?
Lake Placid, 1932
Image Source:www.courses.hamilton.edu
Six years, a different continent – but what a change!
Although this logo may not be viewed today as particularly well-designed, it is a definite upgrade from the ultra-traditional logo of Paris' 1924 Summer Olympics. Considered extremely progressive in 30s, it definitely does not look as old today. It would still be considered a good logo in the 90s'.
Garmisch-Partenkirchen, 1936
Image Source:www.history.vintagemnhockey.com
Although these Olympic Games were opened with a speech by Adolf Hitler, this logo lacks any political elements in its' design. If you compare the 1932 logo to this one, you can clearly see the modern approach taken in the former.
St. Moritz, 1948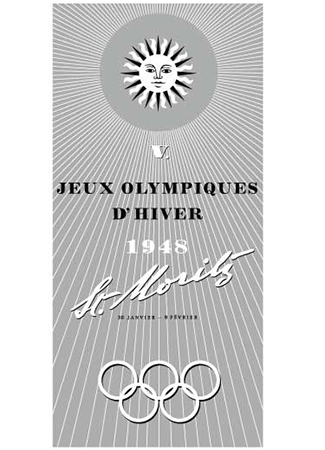 Image Source:www.wikiwand.com
We had to wait 12 years for next Olympic Games after war. This design if one of a few Winter-themed logotypes with a sun as the main element. This project has been a classic showcase of the Swiss school of design thought. An elegant and somewhat obsolete – as Switzerland itself.
Oslo, 1952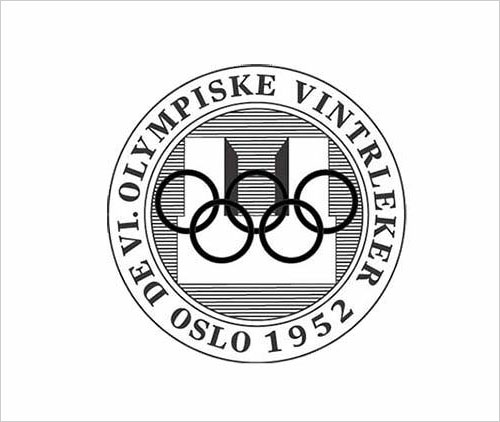 Image Source:www.sportslogos.net
Although Scandinavian graphic designs have always been praised, this particular logo has not made a mark in history.
Composed of rather standard elements, it does not command attention with any particular trait, idea or skillful design.
Cortina dAm­pezzo, 1956
Image Source:www.gettyimages.com
This small Italian city has great conditions for Winter sport events – hundreds of trails and a lot of sun – it's a mix which can't be guaranteed by a lot of places in the world.
A peculiar fusion of a snowflake (shape) and the Sun (colors) makes this logo a very interesting position on the list..
Squaw Valley, 1960
Image Source:www.luxemodo.com
We come back to US with another modern approach to design. Sharp, dynamic shapes and minimalism are characteristic traits of this logo.
It's the first logo of Winter Olympic Games which can be called modern in today's sense of this word.
Innsbruck, 1964
Image Source:www.luxemodo.com
This Austrian design has a very interesting composition.
The fixed elements (Olympic Rings. Typography, a symbol of the hosting country) don't have any particular interpretation here, but rather work together in a well-thought-out manner.
Sapporo, 1972
Image Source:www.olympic.ca
These were one of the most expensive Olympic Games in the history, but a lot was spared in the logo design itself..
The aesthetics of Far East are very minimalistic. The designer has put an interesting spin on the Winter theme, which deserves a special recognition in this list.
Innsbruck 1976
Image Source:www.sco.wikipedia.org
This was one of the cheapest Olympic Games – Austrian city had to modernise some of the objects, since it had hosted the previous Olympic Games just 12 years before..
They surely haven't invested in logo design – which is an obvious remake of the previous logotype.
Lake Placid, 1980
Image Source:www.webdesignerdepot.com
This design has broken one of the prevalent habits – it lacks the Olympic Rings present in previous designs.
A rather cooled out color scheme and minimalistic form help it when it comes to passing the test of time – but it is surely not a project that the design world remembers.
Sarajevo, 1984
Image Source:www.en.wikipedia.org
A rather intense design of Winter Olympics with regards to the chosen colors. Conciseness and moderation in applying color are good traits of every logo designer.
Calgary, 1988
Image Source:www.wikiwand.com
Canadians took inspiration from the past – their project shows a clear level of connection to the previous logo of Winter Olympics.
They came forward with a very well-crafted and attention-commanding logo, and the addiition of 1 more color has added a lot of dignity to the design. A fusion of the Maple Leaf (a symbol of Canada) with a snowflake is worth praising. It's one of the most well-thought-out symbols of Olympic logotypes.
Albertville, 1992
Image Source:www.olympic.org
At a first glance, the main element of this logo resembles a leaf . However, it is an Olympic Flame which is shown over here. Other elements are placed in accordance to common design rules, without too much enrichment.
Lillehammer, 1994
Image Source:www.en.wikipedia.org
This Olympic Games happened only 2 years after the last ones due to a need for Summer and Winter Olympic Games to take place interchangeably.
Instead of typical connections to flag colors and other nation-specific symbols, Norwegians have shown a logo with a theme of aurora borealis.
Nagano, 1998
Image Source:www.en.wikipedia.org
This project surely does stand out from the crowd – bright colors and a dynamic design contradict the stereotypical view of Summer Olympics, and the graphical interpretation of human silhouettes make the whole thing look really beautiful.
Regardless of all of that, the whole composition has remained pretty standard.
Salt Lake, 2002
Image Source:www.webdesignerdepot.com
United States also decided to add some warmth into their design.
A modern interpretation of a snowflake and limited color palette (Olympic Rings remained single-colored) create a design which can't be viewed negatively.
Torino, 2006
Image Source:www.en.wikipedia.org
Italy is the country of design, and who knows, maybe the country of beauty in general.
Their logo brings a lot of freshness and elegance to the table and has nothing to do with traditional approach to design. It has a style, which is firmly placed in the 21st century.
Vancouver, 2010
Image Source:www.en.wikipedia.org
Before voicing an opinion on this particular logo design, it is worth noting, that the project was inspired by a traditional sculpture of native inhabitants of Canada.
Similar, ethnographic inspirations have determined a shape of the mascots. The concept was prepared by Elena Rivera MacGregor and Gonzalo Alatorre, and has won over other 1600 contest designs.
Sochi, 2014
Image Source:www.blog.designcrowd.com
The Russian Winter Olympics didn't surprise anybody design-wise. Traditional yet aesthetic interpretation of snow and mountains keeps up to a good standard.
We will have to wait another year for the next possibility of a design that deserves the Olympic medal. And what are your thoughts? Which one of these logotypes were your favorites?
About author:
Krzysztof Gilowski is the CEO of Juicy Logos – a logo design studio that helps startups create a great logo and a captivating visual identity.